Νέα από το...μέτωπο καιρό έχουμε να ακούσουμε. Έχω όμως δύο από τις αφίσες που θα παίζουν στην ταινία. Μία από το Stolz der Nation(η ταινία μέσα στην ταινία) και μία Bridget von Hammersmark(που την υποδύεται η Diane Kruger).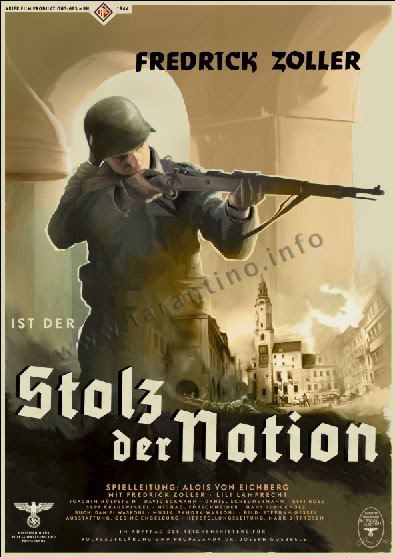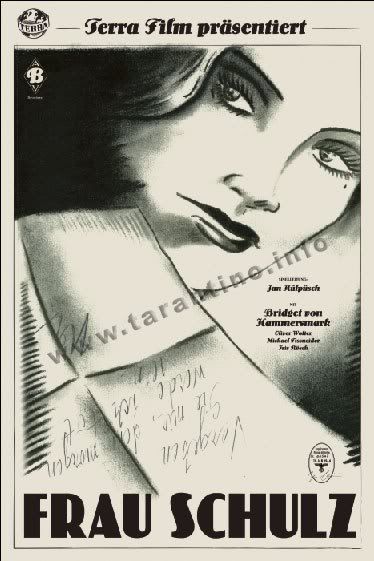 Επίσης στο Empire αυτού του μήνα έχει ένα Top 20 των ταλέντων που θα μας απασχολήσουν το 2010. Τρεις από αυτούς θα παίξουν (ή έπαιξαν) σε ταινία του Quentin:
Melanie Laurent
It's typical of Tarantino to defy nethead demands and cast a relative unknown in the key role of the Nazi-slaying cinema owner Shosanna Dreyfus in Inglorious Basterds. Laurent has form in France: she won a Cesar for Don't Worry, I'm Fine, and was impressive alongside Juliettte Binoche in Paris, though we bet QT spotted her lead in grim Silence Of The Lambs-alike Room Of Death. She'll provide an emotional centre to the scalp-taking carnage, and QT's patronage will push her over the top in the States, where they'll go doolally for her combo of fragility, innocence and inner strength.

WATCH NOW: Don't Worry, I'm Fine
WATCH NEXT: Inglourious Basterds (August 21)
WATCH OUT: Natalie Portman
Michael Fassbender
Buff and brutal in 300, seductive and self-destructive in Angel, credibly incredulous in Eden Lake: Fassbender has rare range, with the ability to appear both feral and gracious. His extraordinary performance as self-starving Provo protester Bobby Sands in Steve McQueen's Hunger earned him and British Independent Film Award, and he'll shortly impact 'plexes with two men-on-a-mission movies from strikingly different eras. In Centurian, Neil Marshall's historical actioner, he's a robust Roman battling behind enemy lines, while Inglourious Basterds sees the German-born irish-raised actor play a British Officer for Mr. Quentin Tarantino. Expect him to kill.

WATCH NOW: Hunger
WATCH NEXT: Inglourious Basterds (August 21)
WATCH OUT: Daniel Day-Lewis
Mary Elizabeth Winstead

A CV that includes The Ring 2, Final Destination 3 and Die Hard 4.0 shouldn't glow, but Winstead does. She first caught attention in Assassination ensembler Bobby, stealing her scene as a vivacious waitress. Tarantino's eye for can-do women picked her out for Death Proof, and now she's Michael Cera's objet desir in Edgar Wright's Scott Pilgrim. Has grace, does comedy: got legs.

WATCH NOW: Death Proof
WATCH NEXT: Scott Pilgrim Vs. The World (TBC)
WATCH OUT: Uma Thurman
Τέλος στο Vanity Fair του Μαΐου (το οποίο μάλλον κυκλοφορεί όπου να'ναι) θα έχει ένα αφιερωματάκι στην ταινία!